Concrete resurfacing is an innovative way to give your home a modern facelift and add value. An overlay of cementitious material can be applied directly over existing concrete, providing endless design possibilities. By customizing with colors, polishes or stamps, you can create a one-of-a-kind look that will make your property stand out and shine. From indoor floors to outdoor surfaces, professional installation ensures lasting results for years of enjoyment and satisfaction. Discover all the benefits of concrete resurfacing today.
Table of Contents:
What is Concrete Resurfacing – Overlays?
Applying a cementitious material over an existing concrete surface in order to upgrade its look and performance is referred to as 'concrete resurfacing' or 'concrete overlays'. This technique can be used to improve the aesthetic appeal and functionality of any outdoor or indoor space. It's also one of the most cost-effective ways to add value to your home.
Resurfacing concrete involves covering existing surfaces with a layer of new material that has been specifically designed for this purpose. The overlay can either be applied directly onto the substrate or bonded with a bonding agent such as epoxy resin before being applied. Depending on what look you are going for, there are several types of materials available including stamped concrete, spray textures and stained finishes.
One major benefit of resurfacing your existing concrete is that it will drastically reduce maintenance costs in comparison to replacing old worn out surfaces completely with new ones which can be costly and time consuming. By applying protective coatings such as epoxies and polyurethanes, your surfaces can be shielded from the effects of UV rays and moisture damage while preserving their attractive look for a long time.
Another great advantage is that you have complete control over how much texture you want in your final product – whether it's subtle stippling effects or bold patterns – allowing you create unique designs tailored specifically towards individual tastes.
Finally, professional installation ensures optimal performance and durability. When considering resurfacing options, always seek help from qualified professionals who specialize in this field as they will know exactly what type of product best suits each application, ensuring long-lasting results every time.
Concrete resurfacing – overlays is an economical and efficient way to restore your concrete surfaces while adding curb appeal and increasing the value of your home. With its many benefits, it's no wonder why homeowners are increasingly turning to concrete resurfacing as a solution for their projects. Now let's take a look at some of the key advantages that come with this type of renovation project.
Key Takeaway: Revamping concrete is an economical approach to revamp any external or internal space, furnishing it with a modernized look without needing to substitute the existing surface. With specialized coatings and professional installation, you can have complete control over your project's aesthetic appeal while ensuring optimal performance and durability for years to come.
Benefits of Concrete Resurfacing
Concrete resurfacing is a great way to add value and curb appeal to your home. It's an economical alternative to replacing existing concrete surfaces, allowing you to improve the look of your outdoor space without breaking the bank. Resurfacing can be used on driveways, patios, walkways, pool decks and more.
The biggest benefit of concrete resurfacing is that it can make old or damaged surfaces look brand new again. You won't have to worry about cracking or crumbling when you use a quality resurfacer – instead, you get a durable surface that will last for years with minimal maintenance. Concrete overlays provide an opportunity to customize the aesthetic of your outdoor area with a range of colors and textures.
Another advantage of using concrete overlays is their versatility – they can be applied indoors or outdoors depending on what kind of surface needs repair or updating. Indoors, they are perfect for basement floors where moisture may be an issue; while outdoors they provide a protective layer from weathering elements like sun exposure and rainwater runoff which could damage unprotected surfaces over time.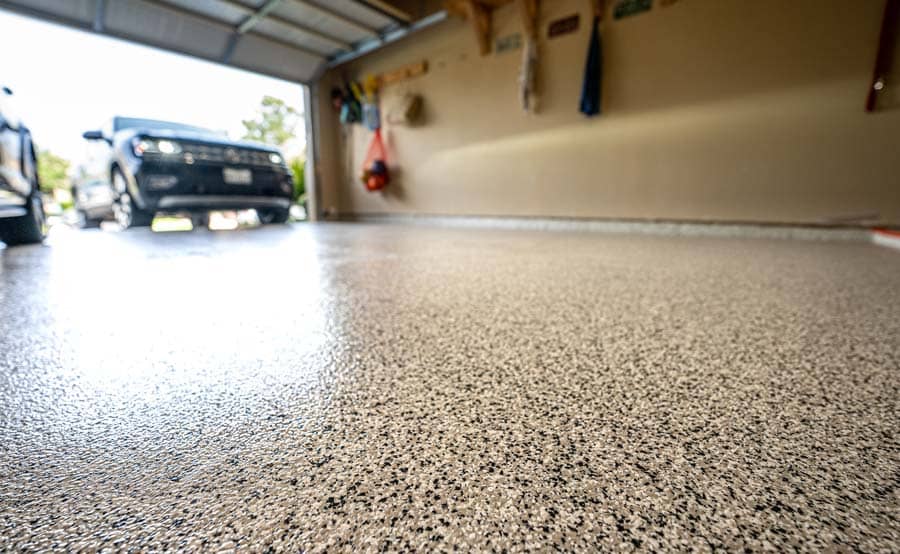 Types of concrete resurfacers range from simple cement-based products that are easy to apply yourself all the way up to high-end epoxy systems designed for professional installation only – making them ideal for any budget level project large or small. With so many options available there's sure to be one that fits both your aesthetic preferences and technical requirements perfectly – whether it's restoring an old patio area back into its original glory days state or creating something completely new altogether.
Resurfacing concrete can bring about many advantages for home owners, from a heightened aesthetic appeal to an increase in property worth. It is critical to comprehend which resurfacing option will be most beneficial for you, considering the variety of choices obtainable.
Key Takeaway: Concrete resurfacing is a cost-effective way to bring life back into old and damaged surfaces, with plenty of options for any budget. It can also provide protection from weathering elements indoors or outdoors, so you can restore your outdoor space to its former glory days or create something entirely new.
Types of Concrete Resurfacing
For those seeking to give their concrete a fresh look, there are numerous alternatives at hand. From colored overlays and polished finishes to stamped or stenciled designs, homeowners can easily add curb appeal and value to their homes with the right concrete resurfacing technique.
Colored Overlays:
Colored overlays offer an easy way to give your existing concrete a new look without having to tear out the old surface and start from scratch. This technique of revamping involves the application of a thin layer of cement-based material to existing concrete, providing a tough surface that is resistant to staining, splitting, discoloration and other forms of wear. The overlay is then tinted with colorant for added vibrancy before being sealed for protection against moisture damage.
Polished Finishes:
Polished finishes are perfect for those looking for something more than just color on their concrete surfaces. This type of resurfacing utilizes diamond abrasives that grind away at the surface until it reaches its desired level of shine – creating an elegant marble-like appearance that adds sophistication and elegance wherever it's used. With proper maintenance, this type of finish can last up to 10 years or longer.
For those looking for something truly extraordinary on their driveway or patio space, stamped and stenciled designs may be the perfect fit. This process involves utilizing specialized tools (stamps) with pigmented release agents (stencils) that are applied to wet cement mix to create intricate patterns such as brickwork pavers, stone tiles, cobblestones etc. Once dried, these masterpieces will remain firmly embedded in the surface for years to come – providing a stunning aesthetic regardless of climate conditions. Keywords: concrete resurfacing, colored overlays, polished finishes, stamped designs, stenciled designs.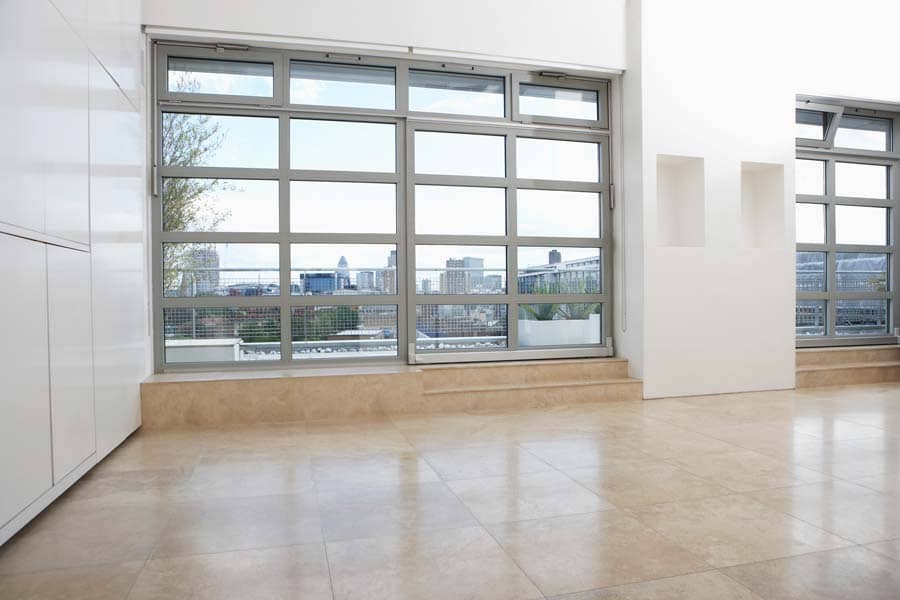 For those looking for something truly extraordinary on their driveway or patio space, stamped and stenciled designs may be the perfect fit. This process involves utilizing specialized tools (stamps) with pigmented release agents (stencils) that are applied to wet cement mix to create intricate patterns such as brickwork pavers, stone tiles, cobblestones etc. Once dried, these masterpieces will remain firmly embedded in the surface for years to come – providing a stunning aesthetic regardless of climate conditions.
The types of concrete resurfacing available are vast and varied, from simple repairs to more intricate designs. Moving on, let's explore the differences between indoor and outdoor concrete resurfacing options.
Key Takeaway: The process of concrete resurfacing has several options from colored overlays and polished finishes to stamped or stenciled designs. These processes involve applying specialized tools and pigmented release agents to wet cement mix in order to create intricate patterns that will stand the test of time – creating a stunning aesthetic regardless of climate conditions.
Indoor vs Outdoor Concrete Resurfacing
When selecting a concrete resurfacing product, it is essential to take into account the location of your project. Certain resurfacing items are intended for interior surfaces, whereas others can endure exterior conditions. To maximize your investment, it is important to select the product best suited for your particular project.
Indoor Concrete Resurfacing:
Indoor concrete surfaces typically require a product with a softer finish and less slip resistance than outdoor applications. Indoor concrete surfaces often necessitate a product that has a smoother finish and less grip than outdoor applications, to make maintenance and cleaning simpler while still providing an attractive look. Additionally, many indoor products come in decorative colors or patterns such as stamped designs that provide an eye-catching look without compromising durability or strength.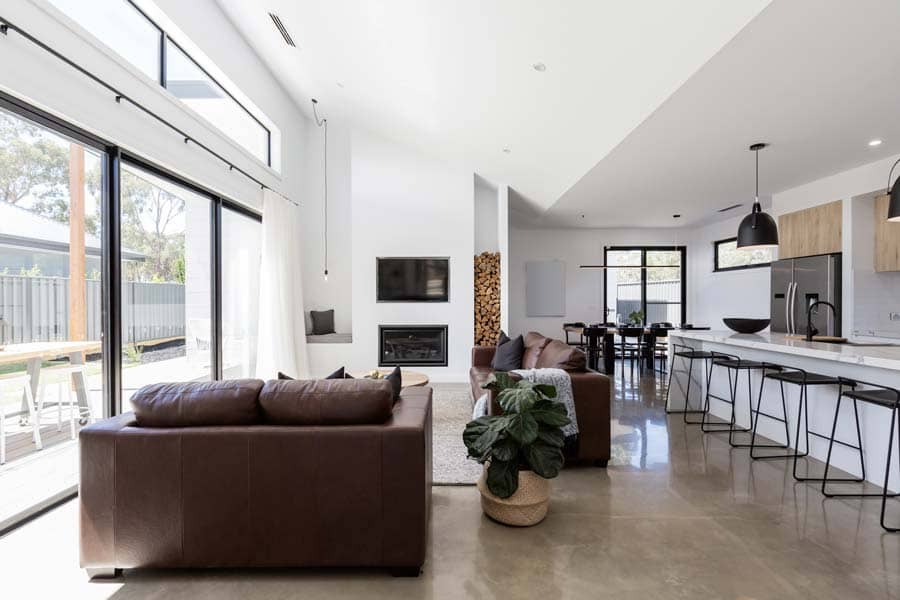 Outdoor Concrete Resurfacing:
When choosing a product for outdoor use, you'll want something with greater wear resistance and slip-resistance due to weather conditions like rain and snow that could cause damage over time if not properly sealed against moisture intrusion. Outdoor products also often feature UV protection so they don't fade in direct sunlight exposure over time. It's important to note that any outdoor concrete resurfacing should be applied by experienced professionals who understand how different climates may affect their workmanship down the line – this will help ensure long-lasting results from your project.
Indoor concrete resurfacing is a great way to add value and curb appeal to your home, while outdoor concrete resurfacing can protect the foundation of your property. Professional installation of concrete resurfacing ensures that you get the best possible results for both indoor and outdoor projects.
Key Takeaway: When it comes to concrete resurfacing, selecting the right product for the job is key; indoors requires a softer finish and less slip resistance whereas outdoors calls for greater wear resistance and UV protection. Expert contractors should be consulted as climate conditions can affect their workmanship long-term.
Professional Installation of Concrete Resurfacing
Hiring a masonry contractor with the right experience and expertise ensures that you get the highest quality results possible. A skilled mason will possess the requisite know-how, abilities, and equipment to apply concrete resurfacing properly for both interior and exterior surfaces.
When it comes to indoor surfaces such as floors or countertops, a professional can create beautiful designs using decorative overlays made from epoxy or other materials. These overlays are durable enough for high traffic areas like kitchens or bathrooms while still providing an aesthetically pleasing look. Professional contractors also know how to prepare the surface before installing an overlay so that it adheres properly and lasts for years without cracking or peeling off prematurely.
Outdoor concrete resurfacing is equally important in creating attractive driveways, walkways, patios, pool decks, steps, retaining walls and more. Experienced masons understand which type of material works best for each application depending on factors such as climate conditions in your area and whether you need extra protection against freeze-thaw cycles during winter months. They can also suggest different colors or textures if desired so that your outdoor space looks unique yet inviting at the same time.
Key Takeaway: A professional masonry contractor can transform your indoor and outdoor spaces with a variety of decorative concrete overlays. Skilled masons can craft beautiful, resilient concrete coatings for both indoor and outdoor spaces that are built to last even in harsh climates or areas of high foot traffic.
FAQs in Relation to Concrete Resurfacing
Is concrete resurfacing a good idea?
It can be used to repair cracked or damaged surfaces while also adding texture and color. Resurfacing is an affordable option that will last longer than painting, staining or sealing alone. Professional masonry contractors specialize in this service and are experienced with the proper techniques needed for successful results.
What is the importance of concrete resurfacing?
It increases the longevity of existing concrete surfaces, while also providing aesthetic improvements such as color or texture changes. Additionally, it can protect underlying structures from further damage due to weathering, water infiltration, and other environmental factors. Resurfaced concrete is less likely to crack or chip over time than untreated surfaces, resulting in fewer costly repairs down the road. Masonry contractors specializing in concrete resurfacing are experts at evaluating the condition of existing surfaces and recommending appropriate treatments that will ensure lasting results for years to come.
What is the best concrete resurfacing?
The best concrete resurfacing option depends on the project. Epoxy coatings may be suggested for a resilient, enduring outcome, since they supply remarkable adhesion and wear-resistance. For decorative purposes, stamped or stained concrete can be used to give your surface a unique look. Foundation repair may require specialized products such as polyurethane foam injection or steel piers for structural support. Finally, brick restoration typically involves repointing mortar joints with high-strength masonry cement and replacing any damaged bricks with new ones that match the existing color and texture of the wall.
How long does concrete resurfacer last?
Concrete resurfacer is a highly durable material that can last for many years with proper installation and maintenance. When applied correctly, concrete resurfacer can offer a long-lasting finish to any surface. The durability of concrete resurfacer can be affected by its exposure to wear and tear from foot traffic or other sources, so regular maintenance is essential for ensuring a long-lasting finish. With regular sealing and cleaning, concrete resurfacer should last up to 10 years or more before needing repairs or replacement.
Conclusion
Selecting the right overlay for your needs can be a challenging task, with such an array of options accessible. Professional installation ensures that the job will be done correctly and safely, giving you peace of mind knowing that your investment in concrete resurfacing was well worth it.
If you're looking for reliable masonry contractors with expertise in concrete, stone, foundation repair and brick restoration services then look no further. A&A Masonry has the experience and skill to provide quality resurfacing solutions that will last for years to come.