Professional Concrete Repair in Toronto
In the bustling cityscape of Toronto, one company stands out for its exceptional concrete repair services – A&A Masonry. As masonry award-winning specialists with a robust team of seasoned professionals, we ensure every project is completed to meet and exceed industry standards.
Simply put, our skilled masons bring value to homeowners by providing top-notch residential concrete repair solutions that enhance aesthetics and improve property values.
The Importance of Professional Foundation Repairs
A house's foundation is akin to its "backbone," providing stability and structure. Damage caused by time and extreme weather can lead to issues that, although they may seem insignificant at first, could worsen into significant problems that affect the appearance of your property and its structural integrity. While these issues may seem minor initially, they could escalate into major problems impacting your property's aesthetic appeal and structural soundness if left unattended.
This underlines why professional intervention like ours at A&A Masonry becomes critical – where we provide comprehensive solutions ranging from restoring damaged foundations to repairing cracked walkways using the highest quality materials available, ensuring durability and longevity results achieved after that.
Our Process: From Assessment To Restoration
We start with an extensive assessment phase wherein potential problem areas are identified before developing a detailed action plan tailored to address each issue individually based on the severity level.
Suppose there is a need for stonework or brick repairs due to aging processes or external factors such as adverse weather patterns. In that case, this aspect, too, gets incorporated within the overall scheme of things, leaving no room for any oversight negligence during the actual execution stage later.
Besides essential restoration works, sometimes clients might express interest in additional enhancements to garage flooring, for instance, in which case those preferences get factored accordingly, making sure the outcome delivered matches exactly what was envisaged beforehand without exception.
Quality Materials for Durable Results
Your masonry project's durability heavily relies on the materials' quality. At A&A Masonry, we're committed to using only top-notch products in all our projects.
The Significance of Quality Materials
The material choice can significantly affect aesthetics and functionality in concrete repair and restoration works. High-grade materials guarantee that your home not only looks fantastic but is also capable of enduring extreme weather conditions over the long haul.
We source our concrete and other supplies from reputable manufacturers who share our commitment to excellence. This guarantees superior results that will stand the test of time.
Durability Ensured with Superior Products
We offer durable concrete coatings to protect surfaces from wear and tear while enhancing their appearance. Our epoxy garage flooring solutions resist stains, impacts, abrasions, or chemicals – making them ideal for high-traffic areas like garages.
When Concrete is Not Enough
Many of our customers initially approached us for concrete repair and are now interested in transitioning from concrete slabs to concrete paving stone & stone products. Various factors drive this shift, including aesthetic appeal, environmental sustainability, and the desire for a unique, personalized outdoor space. So being Masonry Contractors and Concrete Contractors, we got it covered.
Meticulous Stone Work by Award-Winning Specialists
Crafting beautiful retaining walls and interlocking natural stone walkways requires precision and creativity, two traits found abundantly within our award-winning team. As an award-winning Toronto-based firm specializing in general exterior restorations, our meticulous stonework services range from installing elegant veneer cladding onto existing structures to creating stunning new features using paver stones.
No matter what type of project it may be, whether it involves repairing damaged chimneys, designing artistic patios, or laying down fresh pathways, you can trust us to deliver exceptional outcomes thanks to our years of expertise and dedication toward client satisfaction.
Brick Restoration Services
Maintaining integrity and beauty in brickwork requires skillful hands with keen attention to detail – qualities you'll find among our team at A&A Masonry. We provide top-notch brick restoration services, including repointing mortar joints, replacing damaged bricks with matching ones using safe methods (like low-pressure washing), and sealing them properly after cleaning, thus restoring their original charm.
In addition to this traditional form of masonry work known as "tuckpointing," we handle modern alternative cultured stone installations to give homes a unique look without compromising durability functionality.
Good maintenance is critical to preserving longevity structures; therefore, regularly inspecting conditions, especially before the onset winter season, prevents potential damages caused by freezing temperatures and snowfall.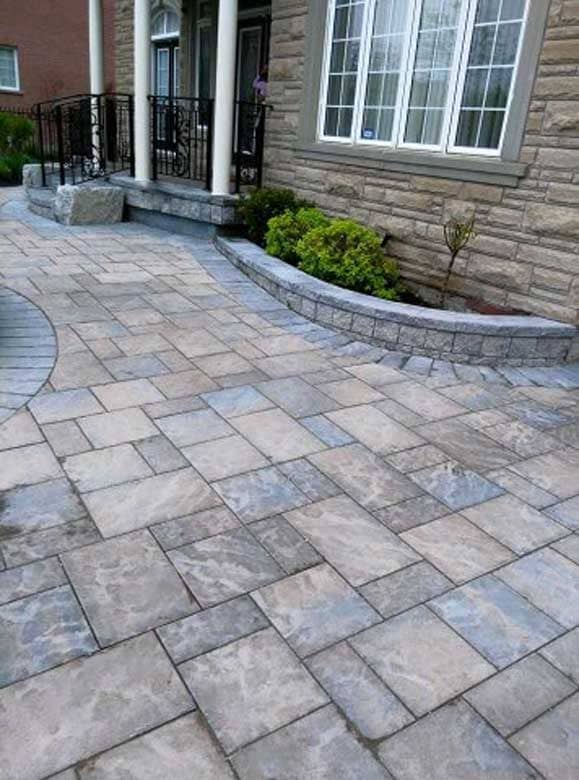 Natural Stone Work & Concrete Coatings
Besides working with concrete bricks, the award-winning Toronto-based firm specializes in interlocking natural stone designs, too – perfect for creating beautiful patios and walkways around the property. These designs are made carefully by arranging different types/colours/sizes/shapes/etcetera pieces in aesthetically pleasing patterns according to the client's preferences/style requirements/budget constraints/etcetera. Plus, they're incredibly durable and able to withstand heavy foot traffic/weather changes over the years showing signs of wear and tear.
Experienced Masonry Contractors
Comprehensive Solutions for Your Home
A&A Masonry is your all-in-one solution provider for concrete repair needs in the Greater Toronto Area. Our award-winning services are not just about quick fixes;
Beyond these skills, our team has mastered working with natural stone for interlocking pavers or cultured stone for exterior restorations. Their knowledge also extends into applying durable concrete coatings or epoxy garage flooring, which boosts your property's aesthetic appeal and durability.
Dedication To Quality Workmanship
We stand out among other masonry contractors due to our unwavering commitment to quality craftsmanship. Every project deserves meticulous attention – fixing cracks on concrete walkways or restoring worn-out bricks through professional brick cleaning procedures.
We strictly adhere to industry standards while executing any task – installing paving stones or general exterior restorations using high-quality materials like stone veneer cladding or paver stones. Unsurprisingly, we're an award-winning firm.
Promoting Safety And Compliance
Safety remains paramount during construction; hence, our professionals follow strict safety guidelines set by CA licenses- City regulations. This ensures both worker and homeowner safety throughout the project's execution phase. Moreover, regular training sessions keep them updated about new techniques and technologies, enabling efficient handling of complex tasks without compromising safety norms.
In essence, hiring experienced professionals from A&A Masonry guarantees exceptional results and peace of mind knowing the job was done right the first time. Let us help you realize your vision of a more aesthetically pleasing and valuable home – contact us now.
Making The Right Choice
Add epoxy garage flooring or cultured stone installations to increase utility and beauty further. If you plan on selling off soon, researching options within Greater Toronto Area, where our specialists have been serving homeowners for years, could be beneficial.
"We believe every homeowner deserves quality service they can trust," "That's why we strive towards delivering exceptional results each time, ensuring satisfaction guaranteed."
With us handling these tasks efficiently, there won't be any need left unattended, so get in touch today.
FAQs about Concrete Repair Toronto Masonry A&A Masonry
What services does A&A Masonry offer for concrete repair in Toronto?
A&A Masonry offers a wide range of concrete repair services, including foundation repairs, brick restoration, and general masonry work.
How experienced is A&A Masonry in concrete repair projects?
The team at A&A Masonry has years of experience providing reliable and efficient concrete repair services to the residents of Toronto.
Does A&A Masonry use any special techniques for concrete repairs?
A&A Masonry utilizes industry-leading techniques and state-of-the-art equipment to ensure high-quality results on all its concrete repair projects.
Does A&A Masonry provide a warranty on their concrete repair work?
Yes, all works performed by A&A Masonry come with a guarantee. The duration depends on the type of service provided.
What types of materials does A&A Masonry use for its concrete repairs?
A&A Masonry uses only top-grade materials from trusted suppliers to ensure durability and longevity in all its concrete repair jobs.
Conclusion
Concrete repair is an art, and A&A Masonry is the artist of Toronto.
Their professional services have transformed homes across the city.
Quality materials mean durable results, a testament to their expertise in masonry work.
A comprehensive approach ensures every corner of your home gets the attention it deserves.
This isn't just about fixing issues, it's about enhancing curb appeal and boosting property value.
If you're looking for experienced masonry contractors who can breathe new life into your concrete structures, look no further than A&A Masonry. They understand that each project is unique and requires a tailored solution. Their commitment to excellence has made them leaders in concrete repair.